Edu Masda Journal is a periodical scientific journal published by STIKes Kharisma Persada. This Journal accepts scientific papers in the form of research reports (original article research papers) with focus and scope including Pharmacy, Public Health, and Medical Record issues.
Edu Masda Journal can be used by health practitioners, health caregivers, teachers, medical students, and people who are interested in pharmacy, public health, and medical record issues. This Journal was first published in September 2017 and subsequently published biannual, in March and September.
Based on the Decree of the Directorate General of Higher Education, Research, and Technology Number 0010/E5/KI.02.04/2022 concerning the Accreditation of Scientific Journals, Edu Masda Journal is accredited Sinta 5.
>Edu Masda Journal is an open-access journal, So all published articles are available online through open access. This Journal began using the Online Journal System (OJS) in March 2018. Every author is required to submit articles with template  to the Open Journal System (OJS) login at  http://openjournal.masda.ac.id/index.php/edumasda/
The review process in this journal employs a double-blind peer-review, which means that both the reviewer and author identities are concealed from the reviewers, and vice versa.If the author will contact Edu Masda Journal, please make communication at  contact person journal
Edu Masda Journal Indexed by: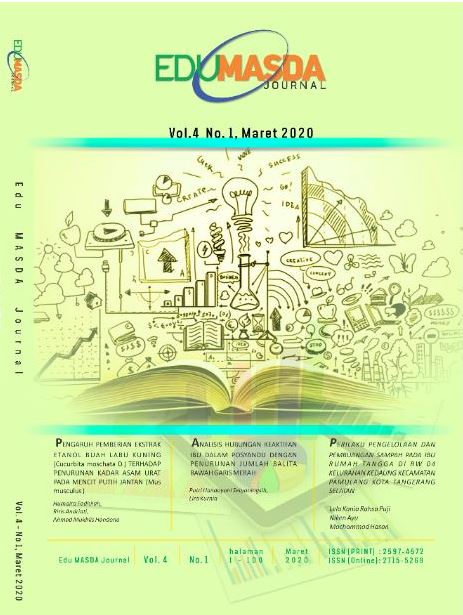 Announcements
No announcements have been published.
Vol 7, No 1 (2023): Edu Masda Journal Volume 7 Nomor 1
Table of Contents
| | | |
| --- | --- | --- |
| | Qomariah Hasanah, Elvira Yunita, Nur Hasanah | 1-9 |
| | | |
| --- | --- | --- |
| | Hilda Klarita, Ekatrina Wijayanti, Emmelia Ratna | 10-18 |
| | | |
| --- | --- | --- |
| | Rapotan Hasibuan, Suri Ermawati | 19-28 |
| | | |
| --- | --- | --- |
| | veri veri, Muh Firman Yudiatma, Agus Dwi Pranata | 29-39 |
| | | |
| --- | --- | --- |
| | Sulastri Herdaningsih, Inderiyani Inderiyani, Suhaimi Fauzan, Hairunnisa Hairunnisa, Gina Aulia, Ratna Dewi Lintang Asmara | 40-47 |
| | | |
| --- | --- | --- |
| | Bheta Sari Dewi, Ayu Werawati | 48-55 |
| | | |
| --- | --- | --- |
| | Magdalena Niken Oktovina, Fitra Annisa, Nurwulan Adi Ismaya | 56-62 |
| | | |
| --- | --- | --- |
| | Agung Dewantoro, Anjas Wilapangga | 63-72 |
| | | |
| --- | --- | --- |
| | Humaira Fadhilah, Frida Kasumawati, Frida Kasumawati, Frida Kasumawati, Dyah Ayuning Dewi Kinanti, Dyah Ayuning Dewi Kinanti, Dyah Ayuning Dewi Kinanti | 73-81 |
| | | |
| --- | --- | --- |
| | Ika Setiani Kristy, Siwi Ikaristi Maria Theresia, Scholastica Fina Aryu | 82-88 |