Edu Masda Journal is a periodical scientific journal published by STIKes Kharisma Persada.  Edu Masda Journal accepts scientific papers in the form of research reports (original article research papers) with focus and scope including Pharmacy, Public Health, and Medical Record issues.
Edu Masda Journal can be used by health practitioners, health caregivers, teachers, medical students, and people who are interested in pharmacy, public health, and medical record issues.  This Journal was first published in September 2017 and subsequently published biannual, in March and September. Edu Masda Journal is an open-access journal, So all published articles are available online through open access.
Edu Masda Journal began using the Online Journal System (OJS) in March 2018. Every author is required to submit articles with  template  to the Open Journal System (OJS) login at  http://openjournal.masda.ac.id/index.php/edumasda/
The review process in this journal employs a double-blind peer-review, which means that both the reviewer and author identities are concealed from the reviewers, and vice versa.
If the author will contact Edu Masda Journal, please make communication at  contact person journal
Edu Masda Journal Indexed by: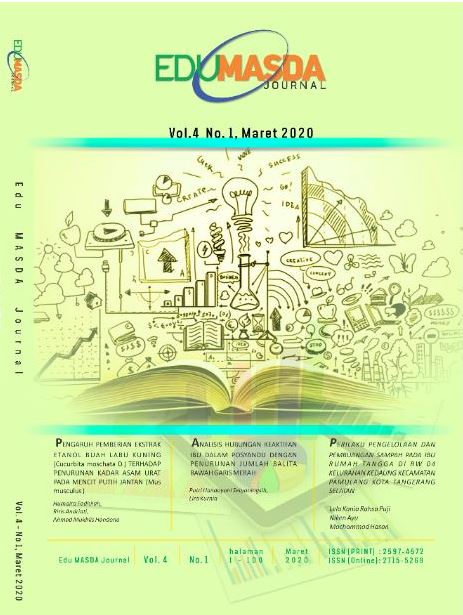 Announcements
No announcements have been published.
Vol 5, No 1 (2021): Edu Masda Journal Volume 5 Nomor 1
Table of Contents
| | | |
| --- | --- | --- |
| | Riris Andriati, Aisyah Aisyah | 1-8 |
| | | |
| --- | --- | --- |
| | Nurwulan Adi Ismaya, Riris Andriati, Tri Okta Ratnaningtyas, Nur Hasanah, Dewi Yulianti | 23-32 |
| | | |
| --- | --- | --- |
| | Gina Aulia, Holidah Holidah, Liswati Friana Sipayung | 33-38 |
| | | |
| --- | --- | --- |
| | Nur Hasanah, Nurwulan Adi Ismaya, Lela Kania Rahsa Puji, Bayu Prihantoro | 39-53 |
| | | |
| --- | --- | --- |
| | Alfianur Alfianur, Toni Zayendra, Tria Monja Mandira, Ritta Farma, Nurwulan Adi Ismaya | 54-64 |
| | | |
| --- | --- | --- |
| | Neneng Sri Purwanigsih, Dimas Agung Wijanarko, Ana Yuli Handayani | 65-72 |
| | | |
| --- | --- | --- |
| | Melizsa Melizsa, Frida Kasumawati, Enung Nuryamin | 73-88 |
| | | |
| --- | --- | --- |
| | Ida Listiana, Mochamad Hasan, Wida Rosmayati | 89-99 |
| | | |
| --- | --- | --- |
| | Humaira Fadhilah, Karunia Rachmani, Nurihardianti Hajaring | 100-106 |